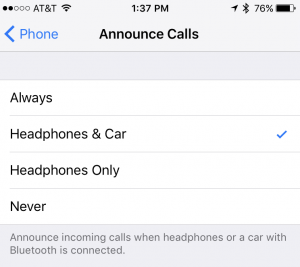 If you have an iPhone updated to iOS 10, you can enable a new feature to announce who is calling when using headphones or connected via bluetooth in your car.  This feature is to make users more handsfree.  As someone calls your phone, Siri will read the name of the caller if found in your contacts.
To enable this feature:
Open the "Settings" application on your phone.
Go to Phone and then select "Announce Calls"
Select your preferred choice
Matt Caminiti is an IT Professional working with enterprise customers for over 15 years.Like most IT professionals, Matt also helps friends and family regularly on everyday advice for their technology.In helping them over the years, he decided to start everyonestech.com to share the steps with others to help people use technology with ease.
Latest posts by Matt Caminiti (see all)