Apple's fall update came celebrating their 10th anniversary of the iPhone.  Apple debuted some new hardware and Tuesday will mark the release of their latest software updates.   If you are in the market for an iPhone, you can now choose anywhere from the iPhone SE (entry level smaller phone), iPhone 6s, 7, 8, and X which fill the lineup still being produced by Apple.  Here is a summary of the event for the everyday users.  What do you need to know?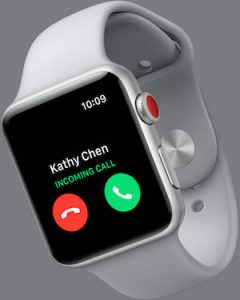 iPhone 8 / iPhone 8 Plus
iPhone 8 and 8 Plus are updates to the iPhone 7 and 7 plus.   The keep the same design and size from previous iPhone 7 models.
Apple replaced the aluminum back with a hardened glass black which will allow for Wireless charging using the Qi standard.
Apple improved the camera's and software for the phone
New Augmented Reality (AR) capabilities
Water and dust resistance
Improved Retina HD screens (similar to the iPad Pro)
New A11 Bionic processor (faster and dedicated uses)
The iPhone 8 and 8 plus are available for pre-order now and will be available Friday.
iPhone X (Pronounced ten)
iPhone X is a higher level phone priced above the iPhone 8.  Apple decided to switch to the popular OLED displays (utilized by many Android phones) which allowed them to shrink the bezel on the phone.  The interesting fact with the iPhone X is the screen is larger then the iPhone 8 Plus but the phone is just slightly larger then the iPhone 7/8 in total size.
New Super Retina OLED display
Face ID Recognition (Uses your face instead of touchID for unlock, purchases, and Apple Pay)
Improved camera's and quality
Wireless charging using the Qi standard.
New Augmented Reality (AR) capabilities
Water and dust resistance
Stainless steel bezel
New A11 Bionic processor (faster and dedicated uses)
iPhone X starts at $999 for the 64GB and $1149 for the 256GB.  Also available on the iPhone Upgrade program.
Apple Watch Series 3
Apple Watch Series 3 is added to the existing Apple Watch lineup of the Series 1 and Series 2.  Series 1 is the base Apple Watch while Series 2 added a GPS and waterproof ability.   Series 3 now adds a cellular option.  While the cellular feature will share your phone number and allow you to run, swim or do an activity without your phone, it will come at a fee from your cellular provider.  Most providers will charge $10 a month to activate the cellular service on the watch.   Also do not expect it to be used all day on cellular mode.  The talk time is only rated for 1 hour, so its really meant for occasional or workout use.
Comes in two models GPS / GPS with Cellular
Improved Siri abilities with Siri talking or responding via voice
GPS and Altimeter combined help track more fitness abilities
Improved heart rate app
If you are in the market for an Apple Watch, definitely look at the Series 2 or Series 3 models.  Prices have dropped on all models allowing more to get an Apple Watch.
Apple TV 4K 
Apple TV 4K is just a small hardware improvement on the latest Apple TV running tvOS.  The new Apple TV 4K adds 4K and Apple Video 4K HDR movie content.
4K support for 4K TV's
1 GB Network connection or Wireless connectivity still available
Supports Netflix 4K
Gives access to 4K HDR Apple content
Latest posts by Matt Caminiti
(see all)